Indira Gandhi: a multi faceted personality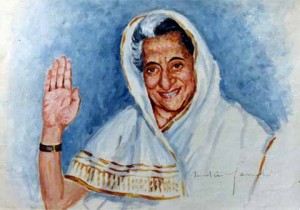 19th November is the birthday of late Indiraji. There was a time when people use to describe her as the only powerful minister in the cabinet. Here I am trying to touch upon different aspects of multifaceted personality of this great leader. Not only as a politicians. But Indira as a child, obedient daughter, responsible mother, great visionary, sensitive mother, nationalist, a strong willed personality, Durga for enemies and a fountainhead of compassion for people, truly secular.
Childhood :
She was born in the wealthy Nehru family in November 19, 1917 in Allahbad. Family fondly called her Indu. Indu means the one who rules the cool brightness of the Moon. Within two years, the family gave away all its wealth for the freedom fight. As a child she saw her parents frequently going to jail. Her childhood was deprived of love and affection of parents. A child standing lonely on a sofa, Engaged in a dialogue with silence and a great leader was born.
Obedient Daughter :
Bright in studies, she had to leave her studies because of illness of her mother. She went to Switzerland. Care and concern of parents became her first priority. Mother -father were fighting for the freedom of the country. They had to go to jail many a times. But she never complained. Even as a child she led Vanar Sena for the freedom of the country. There were occasions she hid documents of freedom struggle and misled British police. A sari her father wove in jail became a precious marriage gift to Indiraji the bride of Gujarat.
Responsible mother :
She never missed the noble duty of mother even as her career saw many ups and downs. Whether it was a matter of study of children or an issue relating to their career, love and affection of mother flowed incessantly.
Great visionary :
She bolstered the tottering economy of the country with Indo Soviet treaty. She taught a lesson to the stalwart politician by expressing her little voice of conscience. She was laconic. But her actions worked wonders. That was Indira. Whether it was question of Russia, China or Pakistan, her foreign policy was farsighted.
Sensitive lady :
Dinner with the head of a state or folk dance in a backward interior tribal area. Wherever Indiraji participated nothing could stop her sensitivity. It matched the tears in the eyes of Mother Teresa. She started a movement to abolish poverty. That was Indira Gandhi.
Nationalist :
When the activities of Pakistan heightened and posed a serious challenge to the unity and integrity of the country, she did not indulge in political speeches or politicization of the issue. Instead, she tore apart Pakistan in Pakistan and Bangladesh and inflicted an unforgettable blow to Pakistan. Dominating policy of USA, teasing of Pakistan or encroachment of China nothing worked before her. She was Indira Gandhi the nationalist.
Politician :
She brought in public life the idea of little voice of conscience (Atma ki avaj). Declared emergency when she found bureaucracy crumbling. Sought people's verdict instead of turning a dictator. When lost, she accepted people's verdict. Remained among people and in a couple of months won back both people's heart and political power.
Fountainhead of compassion :
Even in the midst of several responsibilities and the arduous task of international leadership a lovable grandmother nursed Rahul and Priyanka with love and affection.
Truly Secular :
She moved ahead with Blue star operation in the national interest. After the operation, intelligence agencies recommended that Sikh personnel should be removed from her security job. When this file was brought before her she did not think about risk to her life and noted "I am secular and I cannot remove someone just because someone belongs to a particular religion"
On one hand we have leaders who claim themselves brave hearted. But they do not allow even pigeons to come close by because of their own fear. On the other hand we have brave woman leader Indira Gandhi.